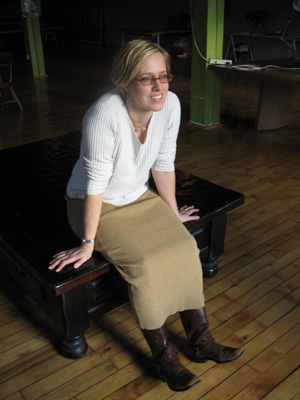 about
Raised near the James River in Richmond, Virginia, I went on to study metals and design at Virginia Commonwealth University where I received a BFA.
I look for instances of delight and growth which can take many different forms. Over the years, I've worked in a variety of mediums ranging from metal to fiber to computer animation.
When I'm not in my studio, I work in a field where I can hone my craft by making props and jewelry. My work as an artisan in films bringing narrative to life has been thrilling and definitely informs my jewelry.
Visually, my design tends to be organic and elegant in its simplicity. I see each piece carrying a subtle, warm weight from the past with a sparkling new patina.
In 2005, I worked for Costume designer Jacqueline West on Terrence Malick's film The New World. In pre-production, I fabricated ornamentation for the Native Americans as Captain John Smith would have seen in 1607. Jacqueline's poetic designs bridged the gaps where there is no documentation; we manufactured every aspect of the Native costume from headdresses, and ear ornamentation to Shaman's wings.
I designed jewelry for Anne Holton for the 2005 Inaugural Ball on the occasion of her husband, Tim Kaine, becoming the Governor of Virginia. I combined shimmery sterling silver, bearing markings reminiscent of early Virginia silversmiths, with the hammered copper and pearls favored by Native Americans.
I worked for both Production Designer Gemma Jackson and Set Decorator Kathy Lucas on the HBO production of John Adams in the spring of 2006. I supervised the manufacture of objects for set dressing as well as working as a craftsperson creating objects ranging from 17th century dolls, effigies, floorcloths, silhouettes to a child's diary.
I have since created jewelry featured in the film Never Back Down. and Alone, yet not Alone. I continue to work as both a metalsmith and a production artisan. Most recently, I created the props and costumes for Virginia's department of tourism's "People of Passion" campaign.